gailanng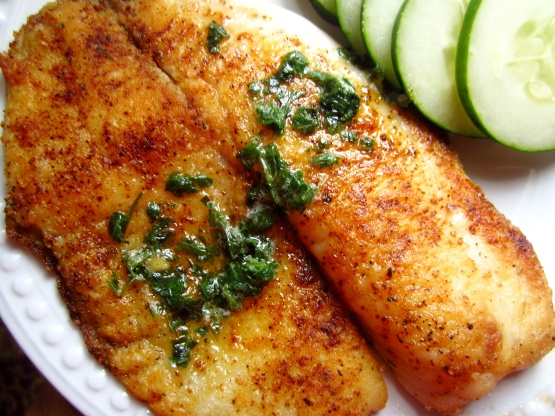 This is my take on a James Beard recipe. So simple and quick, very few ingredients. This is the dish that turned me into a fish lover. Trick is to have everything ready to go when you start. It's fast from start to table.
Top Review by PaulaG
I can see why this has so many excellent ratings. I use white rice flour to make it gluten free. Fresh lemon is a must and if you really enjoy lemon then I might suggest adding a little of the zest as well. This is something I know I will make again. Made for Diabetic Forum and Bounce the Ball for Summer Fun.
Chop parsley and put aside. Juice lemon and put aside.
Melt 2 tbs. butter and the olive oil in non-stick skillet
Lightly dust fish fillets in flour, season if desired with salt and pepper.
When butter stops bubbling, add fish and saute 3-4 min on first side.
Turn and finish second side 3-4 min, until done and flaky. Remove to plate and keep warm.
Add remaining 2tbs. butter to skillet and melt.
Stir in lemon juice and parsley quickly and pour immediately over fish.
Serve and enjoy.