Lemon & Butter Braised Beet Greens
Derf2440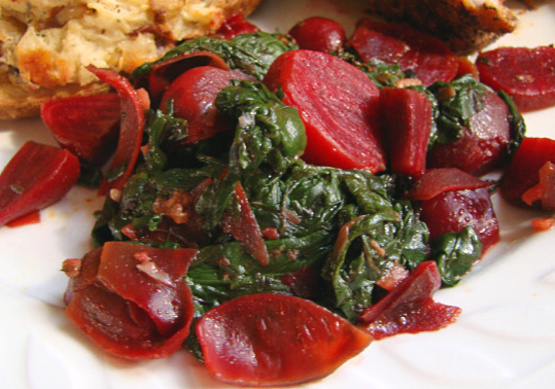 This is from the Earthbound Farms Organic Foods website. It says.... Choose baby leaves, 4 to 6 inches in length, for the mildest taste and most tender greens. Mature leaves have a much more pungent flavor and are best boiled until tender. This simple saute takes just a few minutes to cook and makes a lovely accompaniment to roast chicken or steak.

My first time eating beet greens and this was fantastic! Fairly similar to spinach. I will grow beets for their tops from now on! Thanks for the recipe.
Heat the oil and butter in a large skillet or Dutch oven over low heat, and add the garlic.
Cook gently, stirring frequently, until the garlic is fragrant but does not take on any color.
Add the moist greens, raise the heat to medium-high, and cover the pan. Cook until the greens wilt, about 2 minutes, shaking the pan once or twice.
Remove the cover; if there's any excess liquid, cook until it evaporates.
Toss the greens with the lemon juice, salt, and pepper, and serve hot.