Lemon, Butter, and Bacon Scallops
GeeWhiz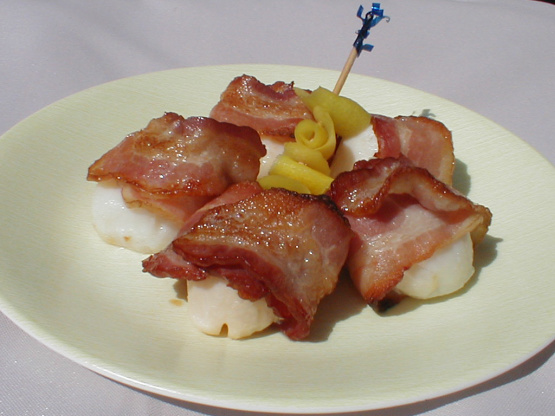 A delicious seafood appetizer perfect for entertaining- or makes a lovely romatic main course.

Top Review by didyb
Yummo-- just look at the ingredients!! I was short on time, so did not dip the scallops in the butter. Just wrapped the scallops and put the butter, sugar, lemon juice over the whole thing and put in the oven (broil setting) for about 5 minutes each side. Served as an appetizer at a dinner party.
Set your oven to broil.
Cut bacon slices in half and pre-cook until partially done; about 3-4 minutes in the microwave.
Rinse scallops in cold water and pat dry with paper towels.
Mix melted butter, sugar and lemon juice.
Dip each scallop into the lemon butter and then wrap with a bacon slice; secure with a toothpick if desired.
Broil on the top rack for about 4 minutes each side, until the scallops turn opaque throughout.