Zaney1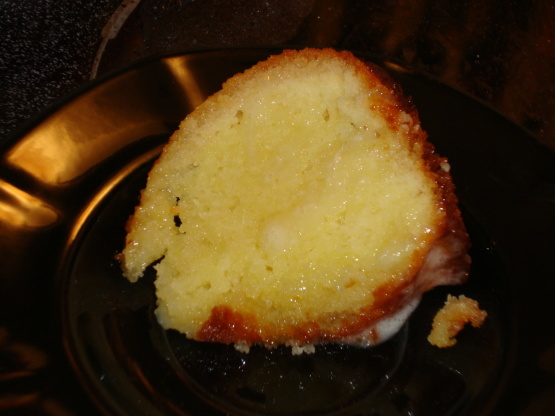 I got this recipe from a Woman's Day magazine at work. This cake is kind of dense in texture. Make sure you grease the pan well. I thought I had my pan coated well but my cake still stuck and came apart. I "glued" it back together with the lemon syrup and the glaze. It wasn't for anything special so it didn't matter, in my case but you will want to make sure it is really coated. The cake has just a hint of lemon. Most of the lemon flavor comes from the lemon syrup. My lemon syrup didn't seem to really thicken up as much as I thought it was going to so be aware of that and don't overcook it. It will look like thinner pancake syrup. I brushed the syrup over a little at a time so it had time to soak in. I did the same thing with the glaze. It makes a lot so if you don't want a whole lot of sweet glaze you might want to cut back on the glaze.
Preheat oven to 350.
Spray a 10 inch bundt pan with nonstick cooking spray and dust with flour.
Cake:.
Whisk yogurt, lemon zest, lemon juice and vanilla together in a small bowl.
In a large bowl, beat butter, sugar, baking powder, baking soda for 3 minutes or until creamy.
Beat in eggs, one at a time, until blended.
On low speed, beat in yogurt mixture.
Beat in flour until just blended.
Pour into prepared pan.
Bake 50 minutes or until a toothpick inserted in the the center comes out clean.
Cool in pan on a wire rack 12 minutes.
Inverting on rack and remove pan.
Syrup:.
While cake is cooling, bring syrup ingredients to a boil in a small saucepan.
Reduce heat and simmer, uncovered, 12 minutes or until thickened.
Brush over warm cake and let cool.
Glaze:.
Mix confectioner's sugar and just enough milk until smooth.
Spoon over cooled cake.
Let stand until glaze sets.