Lemon Blueberry Puff Tart
ktenille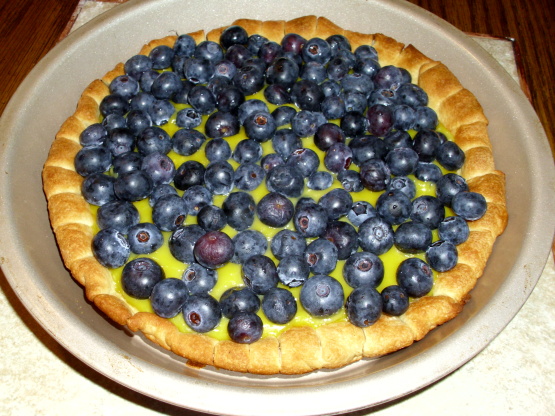 Although ingredients are minimal and basic, be sure to read the directions thoroughly before starting to ensure this delectable tart will be perfect for you and your guests.

I didn't go to all the work to make the pretty puff. I used a puff pastry shell. The end product was beautiful but a bit too tart. After the first tasting I put it in the oven for a while with the blueberries on it. Even more beautiful and slightly less tart. That being said, I was hoping for more of a harmony between the lemon and the berries. This one was just okay for me. Thanks for sharing though :)
Whisk the juice, sugar eggs and yolks together in a pot, being careful not to aerate it too much. Cook over medium heat, stirring constantly but gently with the whisk.
Cook until it thickens and the whisk leaves light lines; it will still be quite liquid. (Do not let it boil.) Strain it into a bowl and press plastic wrap onto the warm mixture. (This is to prevent filming.).
Preheat oven to 425 degrees F. Invert a 10-inch cake pan over the puff pastry (towards the edge of the tray so you waste a minimum amount of dough) and press.
Lift off and use a pizza cutter to cut around the imprint of the circle. Lift the circle of dough out and place on a cookie sheet lined with parchment paper.
Center the round metal bottom of 9-inch tart mold over the dough and press. Cut around at 1-inch intervals to form a decorative "fringe".
Weigh the metal bottom down with heavy objects. (Such as an 8-inch cake pan on top and fill it with 3 pounds of anything from a heavy pot or pan to garden stones.).
Bake about 20 minutes, until the edges are golden, then remove the weights and metal tart bottom. Reduce heat to 350 degrees F. and bake for another 5 minutes, until the center is golden.
Remove from oven and spread the lemon curd evenly in the center. Put back in the oven for 2 to 3 minutes to set the filling.
Remove from oven and scatter the berries around the outside edge of the lemon filling. Serve within an hour. (For easy slicing use a pizza cutter.).