Annacia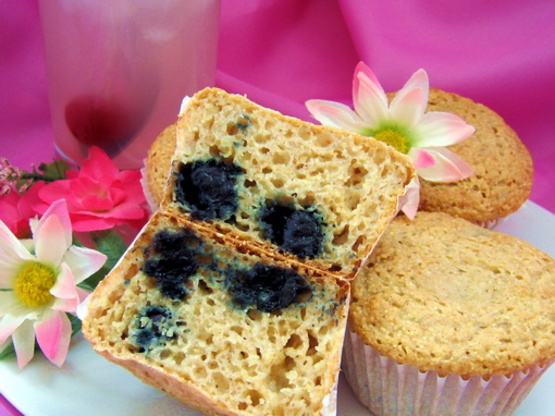 This recipe goes back to a Milk Calendar, which I think was in the 80's. It was a long since favourite, and after making it yesterday, the final muffin was fought over! The cornmeal gives an interesting texture, and the lemon addition is fantastic!

I made them a bit more diabetic friendly by using 1/2 A.P. flour and W.W. along with the cornmeal. I used applesauce for the butter, the sugar became Splenda. The berries do tend to fall to the bottom even being added to the dry mix but I don't think that matters a lot. The texture was course but I know that came from my changes and no fault of the recipe and I only mention it in the off chance that anyone else wants to try them the way I made them so they will know what to expect.
Cream butter and sugar until light. Add eggs one at a time; beat well after each addition. Beat in vanilla, lemon juice, and lemon rind. Do not worry if it looks curdled.
Reserve 2 tbsp flour for blueberries. Combine remaining flour, cornmeal, baking powder, and baking soda. Add dry ingredients to butter mixture alternately with milk, beginning and ending with dry ingredients. Toss reserved flour with blueberries and toss to coat; stir into batter gently.
Spoon batter into buttered (or Pam'd) muffin cups, or cups lined with muffin liners. Batter should come almost to top of pans. Bake in a preheated 350F oven for 25 to 30 minutes, or until just turning golden.
Remove from pan and place on wire racks to cool.