Lemon Blueberry Coffee Cake
Prep 10 mins
Cook 30 mins
My siblings love this for breakfast or dessert. Frozen blueberries may be used, but increase the baking time by a few minutes.
Directions
Combine the egg, sugar, lemon peel and milk; mix well.
Sir in the biscuit mix just until moistened.
Fold in blueberries.
Pour into a greased 9-in round baking pan.
Bake at 350 for 25-30 minutes or until a toothpick inserted near the center comes out clean.
Cool for 10 minutes before removing from pan to a wire rack.
Combine the confectioners' sugar and lemon juice until smooth; drizzle over the warm cake.
Cut into wedges to serve.
Most Helpful
One of my favourite uses for frozen blueberries or saskatoons. Glad to see it's already here!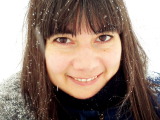 I just made this from a Bisquick ad which I tore from a 2001 Bon Appetit. I wanted to post it, and not wanting to duplicate, found yours. FABULOUS! Moist, tasty, easy! Good for breakfast or with coffee. Next time I'll try it with apple & cinnamon instead.