Lemon Blueberry Cheesecake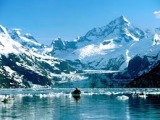 I love the taste of lemon and blueberry together. Add that to a cheesecake and it can't get much better!
Crust

20 -24 lemon cream-filled vanilla sandwich cookies, crumbled (I use a food processor to make fast work of it.)

Filling

24 ounces cream cheese
1 cup sugar
3 eggs
1 teaspoon lemon extract
1 cup blueberries, washed and drained

Topping

12 ounces sour cream
1⁄2 cup sugar
1 teaspoon lemon extract

Garnish

1⁄2 cup blueberries, washed and drained (more or less, depending on your taste)
Directions
Press crumbled lemon cookies into bottom and up on sides of a 9 or 10 inch springform pan. Chill.
Preheat oven to 375 degrees.
Combine all of the filling ingredients into a bowl of an electric mixer; beat until smooth and fluffy (about 15 minutes).
Fold in 1 cup blueberries and blend lightly.
Add prepared filling onto crust.
Bake for 50-60 minutes, until set.
After taking the cheesecake out, turn the oven temperature up to 475 degrees.
Mix topping ingredients together, using an electric mixer, and pour on top of cheesecake.
Bake for about 7 minutes.
Cool cheesecake, then refrigerate to keep it firm.
Garnish with fresh blueberries and lemon zest!
Reviews
Most Helpful
Great cheesecake! I used gluten free wafers, and it turned out wonderful! Thanks for sharing :) Made for Culinary Quest 2015 / Family Picks 2

Life is good when you're eating this cheesecake! I could not find the lemon creme cookies anywhere, so I had to use vanilla creme instead. Even though I used a 9-inch springform pan, the filling really rose pretty high. I let it sit for a while to settle down before I added the sour cream topping, but the topping still overflowed the top during baking anyway. Still, there was plenty of topping to enjoy. I garnished with fresh blueberries for a cheesecake that looked as good as it tasted.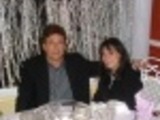 Mmmm! Delicious! You can't beat the lemon & blueberry combination & this recipe is no exception. I used all fresh blueberries in the mix and for garnish, but in the future I might make a blueberry sauce to drizzle over it as well. Super easy recipe, and I only had to make one adjustment. I knew I had two 8oz boxes of cream cheese in the fridge, so I only purchased one more. Then when I went to make the filling I opened the boxes only to find that DS had eaten at least 4 oz of one of the packages. :? I improvised by using the 20 ozs of cream cheese & only putting in 2 eggs instead of the 3. There were no ill-effects from doing this besides the fact that my filling didn't rise as far up the springform pan as I had put the crust. I ended up trimming off about a half inch of crust above the cheesecake before removing it from the pan. Thanks for posting, LIG! Made & enjoyed for ZWT-6 Team Xtra Hot Dishes! :D