katew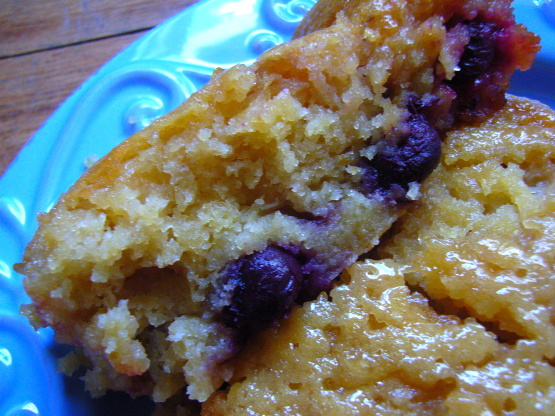 This recipe showed up in the Food Section of the 27 May 2009, Los Angeles Times -- The original recipe was from the Rustic Fruit Desserts cookbook..

This is the best blueberry buckle EVER. I halved the recipe and used splenda instead of sugar, it turned out beautifully. Will make again
FOR THE CRUMB TOPPING

1⁄2 cup all-purpose flour
1⁄3 cup granulated sugar
1⁄8 teaspoon salt

1

lemon, zest of, minced
1⁄4 cup unsalted butter, cubed, room temperature

FOR THE CAKE

1 1⁄2 cups all-purpose flour

2

tablespoons all-purpose flour (Yes, again!)

1

teaspoon baking powder
1⁄4 teaspoon baking soda
1⁄2 teaspoon salt
1⁄4 teaspoon nutmeg, freshly grated

6

tablespoons unsalted butter, room temperature
3⁄4 cup granulated sugar

1

lemon, zest of, minced

2

eggs
1⁄2 cup buttermilk

2

cups blueberries, divided (fresh or frozen)

FOR THE LEMON SYRUP

1⁄3 cup granulated sugar

6

tablespoons fresh lemon juice
FOR THE CRUMB TOPPING: In a medium bowl, whisk together flour, sugar, salt & lemon zest.
Add butter, using a fork or your fingers to cut in the butter until it is reduced to pea-size, then loosely cover the bowl & place it in the freezer while mixing the cake batter.
Preheat oven to 350 degrees F & lightly grease a 9-inch square baking pan.
FOR THE CAKE: In a medium bowl, whisk together flour, baking powder, baking soda, salt & nutmeg.
In a large mixing bowl & with a hand mixer, cream together the butter, 3/4 cup sugar & lemon zest for 3-5 minutes or until light & fluffy.
Add eggs, one at a time, scraping down the sides of the bowl after each addition.
Stir flour mixture into this butter mixture, about 1/3 at a time, alternating with the buttermilk, until both flour mixture & buttermilk are evenly incorporated into the batter.
Gently fold just 1 cup of the blueberries INTO the batter, then spread the batter into the prepared pan before distributing the remaining blueberries evenly over the top of the batter.
Remove the crumb topping from the freezer & sprinkle it over the berries.
Bake the cake 45-50 minutes or until it is lightly golden & firm on top & a toothpick inserted in the center comes out clean ~ Be sure to rotate it after the first 25 minutes for more even baking!
FOR THE LEMON SYRUP: While the cake is baking, in a small saucepan, combine 1/3 cup of sugar & the lemon juice, whisking together until well blended. Heat the pan over medium-low heat & cook, stirring occasionally, for 6-8 minutes, or until the liquid thickens a bit.
Remove from heat & set aside to cool slightly.
When the cake has finished baking, drizzle the warm glaze over the hot cake, then cool to room temperature.
Any leftovers can be covered in plastic wrap & kept at room temperature for up to 3 days.