Ms B.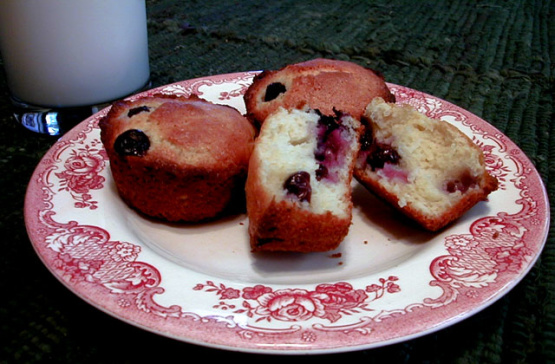 I love lemon anything and these muffins are delicious. The blackberries in the center turn to a jamish layer and a perfect addition. Hope you like them. I use my large muffin tin pan that holds 6 for this recipe.

Doubled the recipe but used only 1/2 cup sugar. Could have used more sweetener for the kids Used partially thawed blackberrys which worked great. Cooked for 22 min. which left them nice and brown and fluffy. Great recipe, will use again with other fruit.
Preheat the oven to 400°F.
Spray or butter a muffin tin (insides and tops to prevent the muffins from sticking with the puff up) and set aside.
Zest a lemon, and set aside.
Squeeze the juice of the lemon into a measuring cup over a sieve to catch the seeds and pips.
Pour milk into the measuring cup to make up a half cup.
Stir in the zest and vanilla, and then set aside.
Melt the butter and set aside to cool.
In a large bowl, measure out the flour, baking powder, baking soda, salt and sugar. Mix well.
To the lemon and milk mixture, add the egg and whisk to combine.
Next, add the cooled butter and mix well. Add this to the dry ingredients and mix just to combine.
Do not overmix- there may well be lumps but that's alright.
Spoon batter into muffin tins, filling them halfway.
Sprinkle a few berries in and then continue to fill the muffin tins to the top.
Bake in a 400 F oven for 25 minutes until the tops are springy.
Cool for a few minutes and then transfer to a wire rack to cool for 10-15 minutes.