Derf2440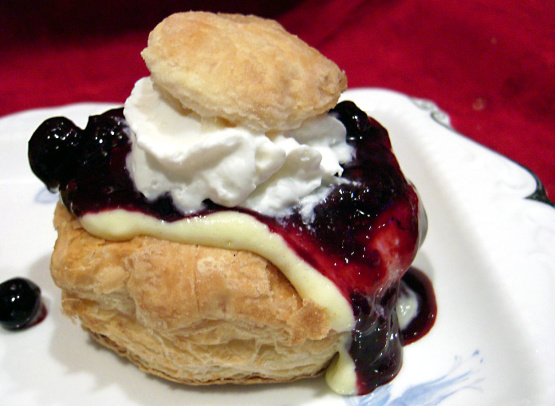 These are so delicious!! Great company dessert or just for the family to enjoy, very easy to do especially if you use frozen vol-au-vent shells.

I was a little confused about the directions on this. The directions say to "roll the pastry thinly" but I know from experience that if you roll it thinly, it doesn't look anywhere near as thick as the picture shown. And I couldn't figure out where the fillings would go (it seemed like they would just slide off the top). I rolled the dough out *slightly* and got 12 3-inch circles, and 12 2-inch circles to use as tops. After they were baked, I carefully tore a hole in the top of each of the 3-inch puffs, hollowing them out and discarding the scraps. Once hour before dinner, I filled the puffs with the fillings, and topped with the 2-inch circles. These had an great flavor and a very nice presentation. In place of the sugar, I used a little Stevia.
Berry Sauce:.
Make a slurry with the lemon juice and cornstarch. Bring the berries, sugar, lemon juice and cornstarch slurry in a saucepan to a boil over medium heat, stirring, until thickened. Cool to room temperature, set aside.
Pastry Puffs:.
To make small puffs - Preheat oven to 425°F Roll the pastry thinly; cut into 24 - 3 inch rounds. Transfer rounds to ungreased non stick cookie trays. Bake 10 to 12 minutes or until puffed and golden; cool completely.
Larger Puffs:.
Bake vol-au-vent shells according to directions on box. Cool completely, remove tops to cool too.
Lemon Filling:.
Cook lemon juice, eggs, egg yolk, sugar and salt in a small, heavy saucepan over medium low heat, whisking for 10 minutes or until thickened. Whisk in butter until thick and creamy. Remove from heat. Cover the surface with a piece of wax paper or plastic wrap and cool completely. Fold in cream, or reserve cream to dollop on top under hat.
To Assemble:.
If using small puffs, halve pastry puffs horizontally. Top the bottom half with lemon filling, or fill vol-au-vent, spoon berry sauce over and top with top of puff or if using cream here, dollop on top of berry sauce and top with puff top. Sprinkle with icing sugar.
Makes 6 large vol-au-vents or 24 small rounds.