Lemon Basil Syrup (For Beverages)

This is from the German magazine called Essen und Trinken. The magazine says this is very refreshing if added to champagne or sparkling water.
Directions
Combine the lemons, water, and sugar. Bring to a boil.
Reduce heat and simmer for 5 minutes.
Remove from heat, add the basil, and seep for 30 minutes.
Remove the basil and add to sparkling water or champagne to taste.
Reviews
Most Helpful
This was really refreshing and tasty. I have added one teaspoon at a time to a glass of seltzer, and also a glass of unsweetened iced green tea. This is really not sweet at all, but just adds the right tartness and sweetness from the basil. I love this, and am thinking of all different beverages to add it to! After making, I refrigerated it in a container and just keep dipping into it as I need to. Thanks for sharing this unique treat! Made for ZWT6.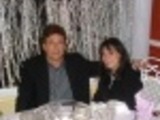 This is really good! I added the finished syrup to 1 liter of seltzer water and garnished with lemon wedges from a third lemon I had on hand. It was very refreshing and enjoyable. Thanks for sharing!