Ashley Cuoco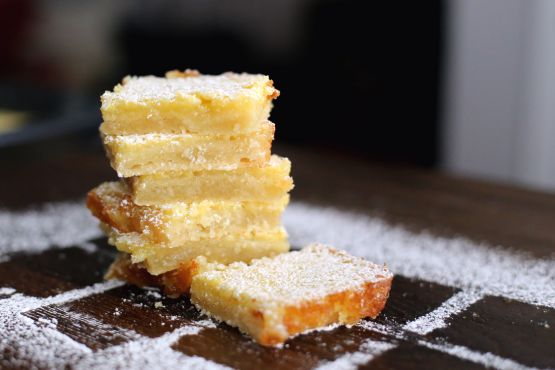 Don't blame me if you get addicted to these bars!

Taking other's suggestions; I used 1/2 c. lemon juice, the zest of one lemon, and beat the eggs for about 7 minutes before adding the remaining ingredients. I did not cool the crust before adding & baking the filling. They turned out great! They were completely set after 25 minutes in the oven. I think it helped to add the filling when the crust was still hot. I also lined the pan with foil (sprayed lightly with pam), leaving the edges long so that I could use the foil to lift the bars out of the pan once chilled. I do this with a lot of baked goods, so that I can put them on a cutting board and use a large, straight pizza cutter to cut them into nice bars. I found that they were easier to lift out and cut if they were chilled. Once lifted out of the pan and cut, I then let them come to room temperature before dusting with powdered sugar and serving.
For the base mix the butter into the flour and sugar.
Mix with hands until it clings together.
Press into a 13 x 9 x 2-inch pan.
Bake at 350°F for 20-25 minutes or until lightly browned.
For the filling, beat together eggs, sugar and lemon juice.
Sift together flour and baking powder.
Stir into egg mixture.
Pour over baked, cooled crust.
Bake at 350°F for 25 minutes.
Cool and sprinkle with powdered sugar.
Cut into bars.