Ms B.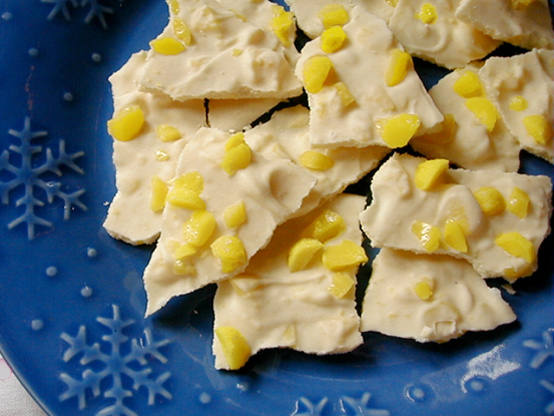 This was in a gift basket and it was divine. Very different and I think you will like it.

Top Review by persi
Fabulous! Included this in my Christmas trays/baskets and it was voted new favorite of the year! I crushed my candies pretty fine and then sifted out the dust to sprinkle on top which gave it a great glittery look that was very pretty.
1

(12 ounce) bag white chocolate chips (I try to use the best brand I can afford) or 1 (12 ounce) bagequal amount of bar white chocolate (I try to use the best brand I can afford)
1⁄4-1⁄2 cup lemon drop candy, broken into smallish pieces
Melt white chocolate in microwave till liquid and smooth.
Add broken lemon drops and mix gently to combine.
Pour onto cookie sheet and spread to about 1/4 inch or so thickness (I always line it with parchment!).
Allow to cool until hardened and break into pieces.
Enjoy.