Lemon Bar/Square Renovation - Ww 2-3 Pts Each
Amy020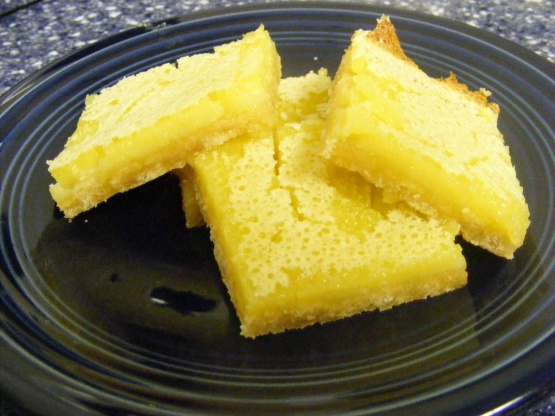 When I saw this recipe in WW Magazine, I HAD to try it. I LOVE lemon squares and have been looking for a lighter version. At first bite, I thought these were okay....but now I've had 3 and really have to put them away or I'll eat the whole pan. They do have that gooey consistency of a lemon bar! I guess I'd like them to be thicker and in that case would make them in a smaller pan...but then the portions would be smaller - it's all a trade. As written, the recipe is 3 pts per square. However, I used Land O Lakes light butter (oxymoron!) which brought it down to 2 pts per square.

Great recipe! Tweaked it a little, as suggested. I didn't use all of the flour mixture for the crust...it just seemed like too much. Also, I used a full cup of lemon juice for the filling, to make it a little more tangy. Great option for a healthier version of the lemon bar.
Preheat oven to 350*.
Make crust: mix flour and brown sugar using a food processor until fully incorporated. Toss butter into flour mixture and pulse to combine until butter is cut into tiny pea-sized pieces and dough appears lumpy. Pack gently into ungreased 13 x 9 x 2" pan (I lined mine w/foil to simplify cutting). Bake 20 minutes until golden.
Meanwhile: Make lemon topping. Beat eggs in medium bowl w/electric mixer (I just did everything in the food processor for easy cleanup). Add vanilla extract and 3/4 c powdered sugar. Mix well. Add lemon juice and remaining powdered sugar until sugar is completely dissolved.
As soon as crust is finished, remove from oven and reduce temperature to 300*. Immediately pour lemon mixture over hot crust. Bake completely, about 30 minutes Cool and cut into 24 bars.
NOTE: Instructions emphasize that the crust MUST be hot when you pour the lemon mixture over. Not sure why, but they made a special note, so I'm passing that along.