Lemon-Balsamic Vinaigrette

This yummy vinaigrette comes from Country Living. I use half oil and half water to cut down on the fat and calories in this and all my other dressings.
Directions
Combine lemon juice, vinegar, salt, pepper, and garlic in a medium bowl. Whisking constantly, add the oil in a thin stream.
Serve or store refrigerated for up to 1 week.
Reviews
Most Helpful
Delicious vinaigrette! I used half the oil (no water) and it was just right. The sweetness and richness of the balsamic offsets the tartness of the lemon and together they are a wonderful pair. Nice and light tasting. Made for Every Day is a Holiday tag, June, 2012.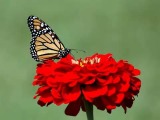 Wonderful dressing. I followed your advice about halving the oil, but didn't add any water, and it was just right for us (I also halved the salt since that cut the amount down by a lot).