Lemon-Asparagus Chicken With Dill
Diana Yen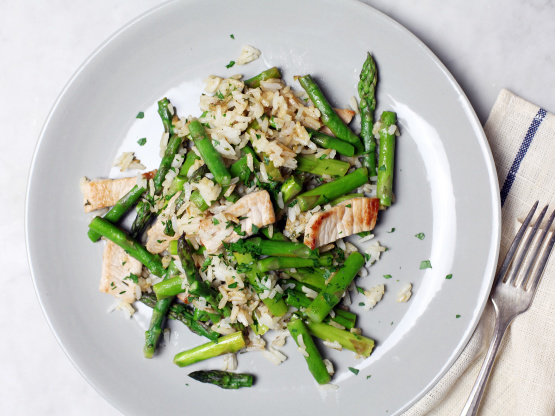 Cooking for 2 can often be a challenge. This recipe is easy to fix, has a pleasing apperance and best of all is suited for 2. It was in the Diabetic Cooking Magazine for May 2004.

An easy,delicious, healthy meal for the whole family ! Its a great recipe to use that helps incorporate veggies that we don't normally cook! The kids loved the asparagus an we also added mushrooms an onions. I'll defiantly add it to my recipe box an make it again! Thanks!
Cook the rice in chicken broth as per package directions, approximately 15 to 20 minutes for white rice.
Add the 1/2 cup water to a 12-inch nonstick skillet; bring to a boil.
Add the asparagus and return to boil, reduce heat, cover and simmer for approximately 3 minutes or until crisp-tender.
Drain asparagus and set aside.
Wipe out the skillet with a paper towel.
Spray skillet with non-stick cooking spray.
Heat over medium-high heat until hot.
Add chicken and cook 3 minutes or until no longer pink, stirring frequently.
Remove from heat and add aspargus.
Cover and keep warm.
Combine the lemon juice, oil, dill and salt add to cooked rice.
Add the rice mixture to cooked chicken.
Sprinkle with chopped parsley before serving.