Lemon Asparagus Chicken Rolls With Capellini
*pink*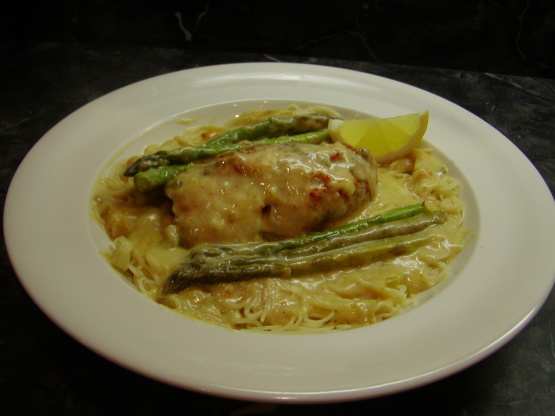 Chicken breasts wrapped around fresh asparagus and cheese, smothered in a lemon hollandaise sauce over capellini.

This was very good, and very easy. I may try to add another layer of flavor to the chicken rolls next time, but honestly, it was pretty good just as written. I should also mention that my daughter and I both made the comment that we could, would, and probably WILL make a meal out of just the sauce/pasta combo! It's Delicious! Thanks for posting!
Heat oven to 350. Place chicken breasts between 2 pieces of plastic and pound them flat and thin. Sprinkle with salt and pepper. Cut each of the asparagus spears in 1/2, set aside. Cut the slices of gouda cheese into strips, set aside.
Prepare hollandaise sauce as directed. When finished, pour 1/2 into a greased glass baking dish (9x9). Take one of the pounded breasts, place 6 pieces of asparagus in each and strips equalling 1 piece of cheese. Roll tightly around the asparagus and secure with a toothpick if needed. Pour remaining sauce over chicken rolls, pour lemon juice over that, and sprinkle green onions over the top. Cover with tinfoil and bake at 350 for 25 minutes or until chicken is tender. Uncover for 5 minutes to brown if needed. Serve with hot capellini noodles.
**Capers are a great option to the green onion tops**.