Besu1126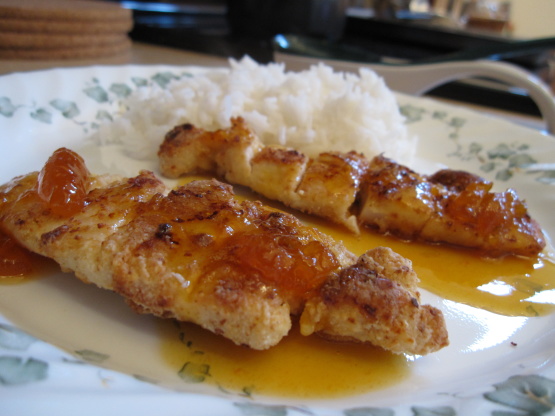 Do you love lemon or orange chicken at Chinese restaurants? Then this recipe is for you! It's from Betty Crocker's Bisquick Cookbook. It is divine. The ginger adds a subtle yet distinct tangy-ness to the sauce; I haven't tried it yet, but I wonder if orange marmalade would work as a substitute for the apricot preserves.
Heat oven to 425-degrees. Flatten each chicken breast half to 1/2-inch thickness between waxed paper or plastic wrap.
Spread 1 tablespoon of the melted butter in jelly roll pan or edged cookie sheet.
Beat egg and water together slightly.
Mix Bisquick, lemon peel, and garlic powder.
Dip chicken into egg mixture, then coat with Bisquick mixture. Place in pan. Drizzle with remaining melted butter.
Bake uncovered for 20 minutes, then turn chicken. Bake about 10 minutes longer or until juice of the chicken is no longer pink when centers of thickest pieces are cut.
Assemble Lemon-Apricot Sauce and heat in a 1-quart saucepan over medium heat until warm. (This can be started with just a few minutes left on the chicken.).
Cut chicken crosswise into slices, and top with sauce. Enjoy! Tastes great served with rice.