Lemon Angel Cake With Blueberry Sauce
Ms B.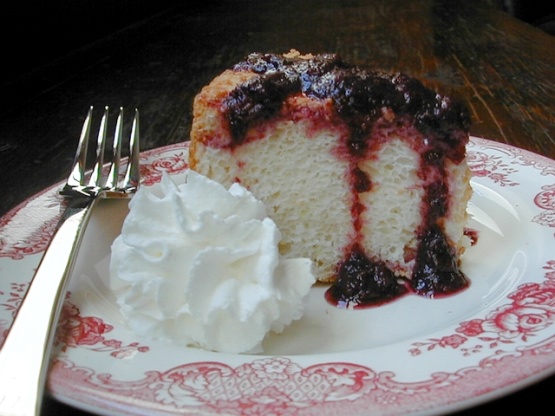 This is a light, refreshing, healthy dessert that sneaks in one more serving of fruit for the day. I like it topped with Cool Whip.

Top Review by Ms B.
I have always used box mixes for angel food cake, and tried this recipe as my first attempt from scratch. I think that I might have over mixed the batter when folding the flour into the stiff egg whites, as my cake wasn't quite as tall or as light as I thought it should be. But, the flavor was good. I also questioned if the blueberry sauce should be cooked to achieve a syrupy consistency, but went with the recipe directions and didn't have a problem. We served this cake and sauce with real whipped cream.
Preheat the oven to 350°F.
Sift the flour twice with 1/2 cup of the sugar.
With an electric mixer on high speed, beat the egg whites, cream of tartar and salt until soft peaks form when the mixer is removed from the batter.
Add half of the remaining sugar and beat for 1 minute. Add the remaining sugar, 2 tablespoons at a time, beating after each addition.
Stir in the vanilla, and add lemon zest.
Fold the flour and sugar mixture into the egg whites, 1/4 cup at a time, until just incorporated.
Put the batter in an ungreased 10" tube pan and bake until the cake is a light golden brown and springy to the touch, about 1 hour. Invert the pan and let the cake cool completely before removing from the pan.
While the cake is baking, puree the berries in a blender with the lemon juice. Blend in the sugar by the tablespoonful, tasting after each addition, until the desired degree of sweetness is reached.
Strain through a fine strainer, pressing with a rubber spatula to release the juices.
Place 1 slice of cake on each of 6 plates. Spoon the blueberry sauce on and around the cake.