Lemon and White Chocolate Cupcakes
ChefLee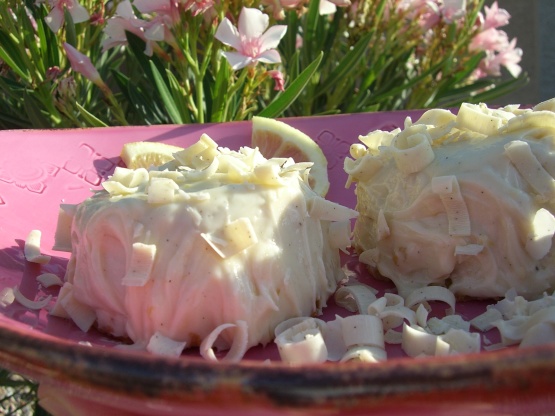 I found this recipe on the Godiva site using Godiva white chocolate. I am sure any good quality white chocolate will do fine (such as Ghirardelli).

I'm here to add my accolades for this recipe. It was very easy to make and the presentation was lovely. The best thing though was the deep lemon flavor of the cake (I'm a lemon lover) tempered by the wonderful combination of cream cheese and white chocolate. You have a winner here Bev - thanks.
To Make Cupcakes:.
Position the rack in the center of the oven and heat to 350°F
Place 12 cupcake paper liners in a 2 1/2-inch muffin pan.
Sift together the flour, baking powder, baking soda and salt into a medium bowl and set aside.
Beat the butter and granulated sugar in a large bowl with an electric mixer at medium speed until light and creamy.
Beat in the eggs one at a time. Beat in the lemon juice, lemon peel and vanilla.
Beat in one-half of the flour mixture, scraping down sides of bowl.
Gradually add the buttermilk and beat in the remaining flour mixture until the ingredients are mixed.
Divide batter among the muffin cups, filling each about one-half full.
Bake for 20 minutes or until a toothpick inserted comes out clean.
Cool cupcakes in pan on a wire rack for 10 minutes.
Remove cupcakes and cool completely.
To Make Frosting:.
Place the white chocolate in a microwavable medium bowl.
Microwave on HIGH for 1 to 1 1/2 minutes.
Let stand for 1 minute.
Stir until it's completely melted and smooth. Cool slightly.
Add the cream cheese, butter, lemon peel and vanilla.
Beat with an electric mixer at medium speed until the ingredients are mixed.
Add the confectioners' sugar and beat until the frosting is smooth.
To Assemble Cupcakes:.
Remove the paper liners from the cupcakes and turn the cupcakes upside down.
Spread a 1/4-inch thick layer of frosting to completely cover the top and sides the cupcakes.
Spoon the white chocolate curls over the frosting, gently pressing, if necessary to help them adhere to the sides.
Sift the confectioners' sugar over the tops of the cupcakes.