Lemon and Red Pepper Pasta
momaphet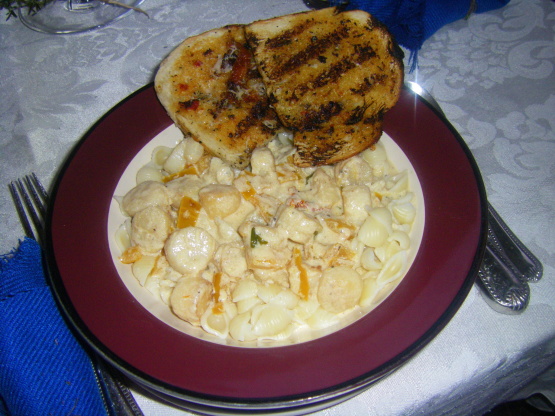 Bright colors and flavors highlight this quick elegant dish. Serve with a green salad and a dry white wine for a light summer dinner, or use as a side dish. From Eating In, by Betty Fussell.
A wrote this and thought I had submitted but - oops it was gone so here I go again. We really enjoyed this dish. I used yellow pepper (red would look better - but they taste the same), 1/2 and 1/2, 1 clove of garlic & added a little pesto and marjoram. My cheese was a combination of fresh parmesian and assagio. I sauted scallops in the butter from the peppers with some olive oil added, then deglazed the pan with an Italian white wine - Grillo, I removed the scallops and made the sauce then returned the scallops and peppers to the pan. I didn't have time to make fresh pasta so I used shells, which seemed quite appropriate. The bright lemon flavor was perfect with the scallops and the shells held on to the sauce to make every bite delicious. Thank you realbirdlady for a lovely recipe. Reviewed by a Chic Chef for ZWT 4 Italy
Put water for the pasta on to boil. Cook pasta al dente.
Meanwhile, remove the stem and seeds from the pepper. Neatly dice the flesh.
Melt the butter in a large skillet or saucepan.
Add the pepper to the melted butter.
Grate the rind of the lemon into the butter.
Add one half of the lemon's juice, cream, and seasonings to taste, stirring gently. Keep the sauce warm until the pasta is ready, but do not let the sauce bubble.
Drain pasta and toss in sauce. Serve immediately, with the parmesan.