Lemon and Parsley Whole Baked Fish
JustJanS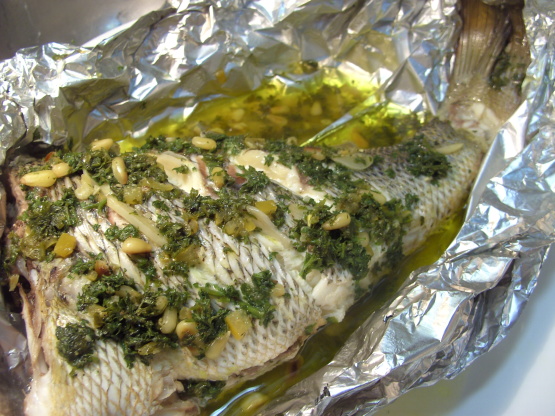 We are catching plenty of fish right now so I need ways to use them! I found this on the Bigpond site, but changed it to suit us and the ingredients I had on hand. We have a tiny oven so took the head off our fish so's it'd fit, but you can leave yours on if you prefer. We used a spangled emperor which is a relative of snapper and bream. We thought this was delicious.

Top Review by awalde
Hi dear Jan¨<br/>This week I bough 2 gifthead fishes (each about 500 g, shorter baking time) and I followed your delicious recipe.<br/>I prepared the double quantity of marinade, but I used only the half quantity for baking. The second half we served it on the table as sauce for the gold millet. <br/>Your recipes are always very tasty and this one was was outstanding as well. <br/>I had enough preserved lemons I prepared with small lemons I got from friends from Greece, but I confess that after discarding the seeds I used the pulp as well and blended together with all the ingredients for the marinade.<br/>Thanks a lot for this recipe this make us a little bit like "staying with you both" in Australia.<br/>Big HUGS!
Heat your oven to 180c.
Score the fish through the thicker parts a few times on each side; stuff the garlic slivers into the slits.
Mix together the parsley, preserved lemon, pinenuts, salt and pepper, then add in the oil to make a paste.
Smear this paste inside and on the outside of the fish.
Wrap the fish in a foil parcel and bake in the oven about 30 minutes or until done to 65c. Remove from the oven and allow to rest wrapped in the foil about 5 minutes.
Serve with the juices spooned over.