Lemon and Parsley Potatoes

Directions
Preheat oven to 180°C 350°F and line a baking tray with baking paper.
Peel the potatoes and cut them into 2.5 cm / 1 inch pieces.
Parboil th epotatoes in a large saucepan of boiling salted water, over high heat for 3 minutes. Drain the potatoes and pat them dry with paper towel or a clean teatowel.
Brush the oil over the potato chunkc and then season with salt and freshly ground black pepper. Place on a baking tray and bake for 20 minutes.
Combine the parsley and lemon zest. Sprinkle over the potatoes after the 20 minutes cooking time and bake the potatoes for a further 15 minutes, or until the potato is golden and tender.
Reviews
Most Helpful
Such bright, flavorful potatoes that were so delicious! I know I veered off from the preparation technique quite a bit, but I'm sure the resulting flavor was essentially the same. First of all, I did not peel the potatoes, as I like crispy skins. I also did not parboil the potatoes. I roasted them at 450 degrees, covered with foil, on the lower rack of the oven for 10 minutes, then stirred them, sprinkled with lemon juice as well as the zest/parsley mixture, and roasted them uncovered for another 15 minutes. They were perfect! Made by a Tasty Tester for ZWT 9.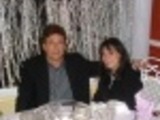 I LOVED these potatoes with the crispy exterior, creamy interior, and a bright but light lemon flavor. Made for Mike and the Appliance Killers, ZWT 9.

These have been the best roast potatoes I have made using Carisma potatoes (low GI white potatoe), for the first time I got a crispy outside so from now on I will be parboiling them in small cubed size and then baking (I did parboil and then after draining put them in a bowl and drizzled the oil over and gave them a good toss before putting them in the prepared tray - love the idea of the parchment/baking paper made things so much easier and no sticking and clean up a breeze). The taste was fantastic and the balance perfect not to strong in the lemon (from the DD's lemon tree) and I used fresh parsley plucked straight from the herb garden, cooking times were perfect a real winner, thank you **Jubes**, made for Make My Recipe - Edition 15.