Lemon and Oregano Lamb Chops
IngridH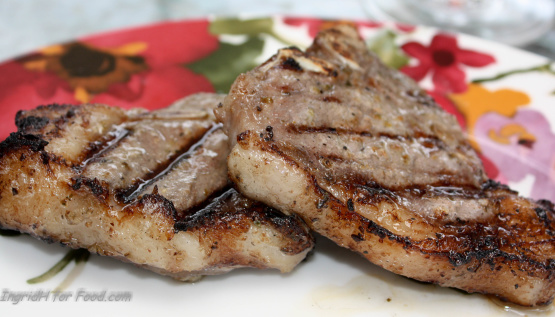 From May 2007 Australian Super Food Ideas. Suggested to serve with roasted potatoes and onion with a tzatziki dip. Do not include marinading time but do include 5 minutes resting.

Yummy! I used lamb T-Bones, which I marinated for about 10 hours before tossing on the grill. The flavor of the lemon is just wonderful, a great complement to the natural flavor of the lamb. I love how simple this is, easy enough to put together before work; and a great dinner waiting when I get home :)
To make marinade combine oil, garlic, 2 1/2 tablespoons of lemon juice and oregano into a ceramic dish.
Add lamb to marinade and turn to coat. Cover and refrigerate for 2 hours or overnight, if time permits, turning occasionally.
Preheat barbecue plate onto medium-high heat.
Remove lamb from marinade.
Barbecue lamb, basting with marinade for 6 to 8 minutes on each side for medium or until cooked to your liking.
Remove to plate, cover and stand for 5 minutes.
Serve with suggested roasted vegetables and tzatziki or a simple salad.