Lemon and Olive Veal Steaks
JustJanS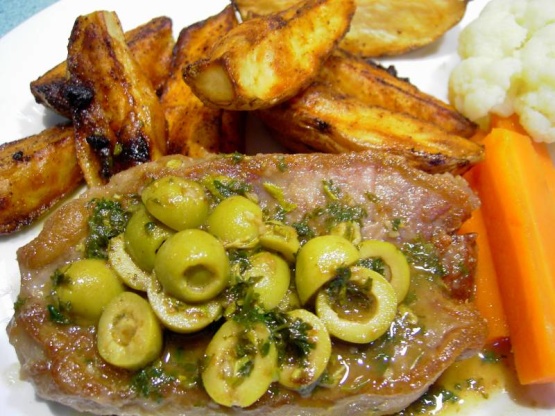 One Russell came up with tonight using ingredients on hand. it's based on a dish by Evelyn/Athens that we couldn't make when we realised we had no capers. Very lemony, and we thought, very nice.
Season the flour with salt and pepper and lightly coat the veal in this, shaking off any excess.
Heat the oil in a pan over medium high heat, add the veal and cook for about 2 minutes or until golden brown.
Turn and cook for about 1 minute more, then remove and keep warm whilst you make the sauce.
Pour the wine and lemon juice into the pan and simmer for a minute, scraping up any brown bits.
Add the butter, herbs and sliced olives and allow to thicken a little before serving over the steaks.