Lemon and Hot! Pasta Salad With Kidney or Cannellinni Beans
flower7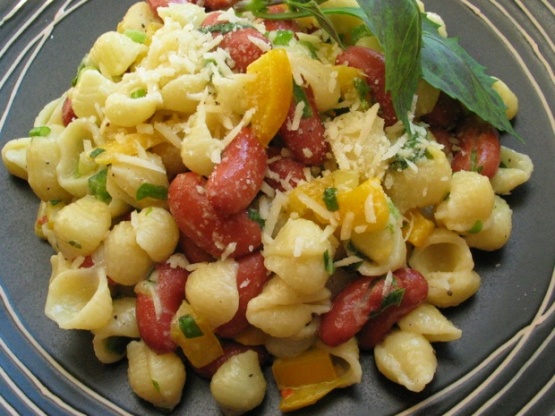 An easy, filling, summer pasta salad to tingle your tongue and tummy

This was really great, though I made a few small changes. I used small shell pasta but only used 8 ounces - and I'm glad I did as the ratio of pasta to veg was perfect with 8 oz; 12 would have been too much pasta, at least for my taste. I also cut the oil back to 4 Tbsp and the red pepper back to just a sprinkle. The only other change was to leave out the celery since I don't care for it, but since I still wanted a crisp veg I added some yellow bell pepper. Everything else was made per the recipe. Since I cut back the pasta, I thought there was just the right amount of dressing. Thanks for sharing!
Pasta: follow directions on the package to cook to al dente. Drain and cool. Place in a large bowl.
Dressing and Vegetables: Combine in a bowl and whisk olive oil, lemon juice, mustard, zest, and garlic. Season with salt and pepper and add basil, parsley, and scallions. Add Jalepeno and celery. Whisk again.
Combine dressing and vegetables in a large bowl with pasta. Toss in beans. Sprinkle with pepper flakes and parmesean.
Serve Cool.