Lemon and Herb Pork Loin Cutlet
I'mPat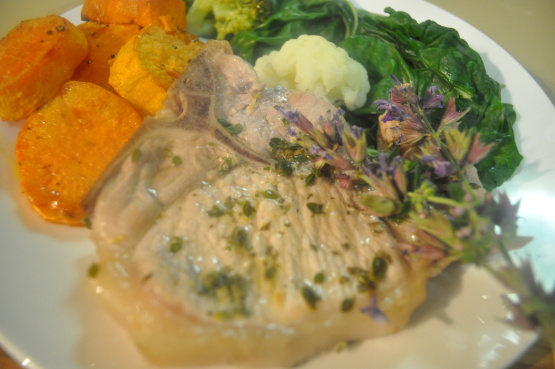 I made these for dinner last night and was really happy with them. This recipe could easily be doubled. Make sure to allow time in the fridge. According to the Australian Pork Board, lean Australian pork (and loin cutlets were included in the info) contains less than 2g fat per 100g raw meat, so I don't agree with the sites' nutritional data but have to use it!

Top Review by I'mPat
The comments were anywhere from a 3 to 5 - the DM was on the verge of asking if she could have it for lunch tomorrow when I asked her to each at least a mouthful so I could have an opinion well not long after it was polished bones and a clean plate. I used lemon thyme and sage from the garden and doubled the recipe as I was cooking 4 large 250 gram each pork loin chops bone in and as I was using lemon thyme only used about the zest of 1/4 lemon but I should have omitted it as the thyme was very strong and the flavour ended up dominating the pork. Because the chops were bigger than Jan used I thought a extra couple of minutes would be in order but I should have put them in for no longer than the 8 minutes my mistake being I should have gone on the thickness of the chops and not the weight as they were on the thin side. Thanks Jan, made for Make My Recipe spring Edition.
Brush each cutlet with a little oil.
Combine the remaining ingredients then coat each side of the cutlet with it's share of the mixture. Refrigerate for at least an hour.
Heat your oven to 200c.
Heat an oven proof pan over high heat, brown the cutlets quickly on each side seasoning with a little salt if you wish.
Put the pan and cutlets into the preheated oven and cook until done to your liking. Ours took around 8 minutes and were cooked through but still juicy and tender.