Lemon-And-Herb Pasta Salad
teresas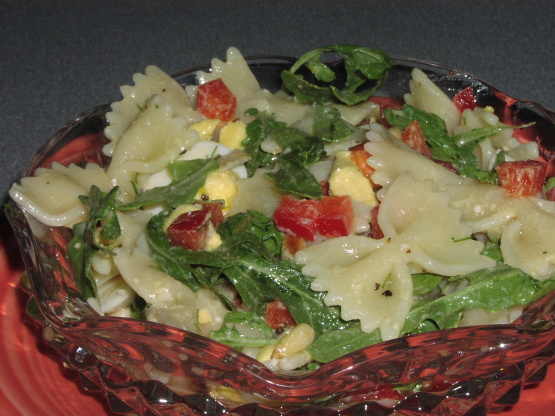 A recipe that I want to try from Rachael Ray.

We really enjoyed this salad...it didn't say to serve it immediately after adding the lemon dressing...so I tossed it altogether and let it mellow while I finished the rest of the meal...that might have been the problem...because we found it on the dry side...but it was packed full of yummy flavors...thanks for posting it!
In a large pot of boiling, salted water, cook the pasta until al dente. Drain and rinse under cold water.
Meanwhile, in a bowl, combine the lemon peel, lemon juice and olive oil; season with salt and pepper.
In a large bowl, mix together the pasta, bell pepper, arugula, eggs, parmesan, pine nuts and dill. Add the lemon dressing and toss.