IngridH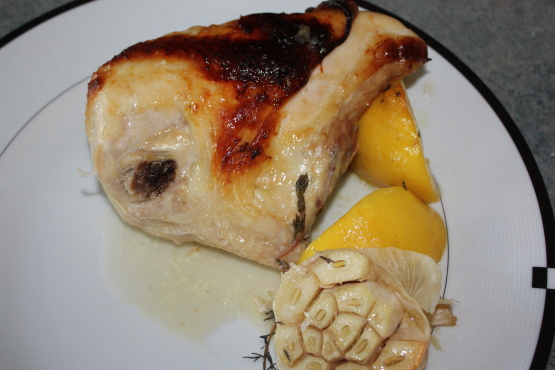 I got this recipe from a supermarket magazine. I haven't tried it yet but posted it here for future use and safekeeping and of course to share it with you. If you make it before I get around to it, please let me know what you think.

We liked this, but I have to say that the lemon was really the prominent flavor in this dish. To make it a bit more balanced, I'd add more ginger, and a couple of minced garlic cloves to the marinade. I'd also give the cut halves of garlic a good drizzle of oil, as they came out very dry, not soft and spreadable as I had hoped. The chicken itself was juicy and tender, the leftovers will be great in another dish. A nice recipe overall, with the potential to be very good.
Squeeze the juice from the lemon quarters into a bowl.
Add the honey, olive oil and grated ginger and mix well.
Pour everything into an oven proof dish, which needs to be big enough to hold the chicken in just one layer with a little space between the pieces.
Add the chicken to the oven dish and turn the pieces well so that all sides are covered with the marinade.
Leave the chicken skin side down and place the wedges and sprigs of thyme in between the pieces. Allow to stand for half an hour.
Preheat oven to 190°C/375°F/Gas 5.
Turn the chicken pieces over so that the skin side is up.
Add the two halves of the garlic bulb to the oven dish in between the chicken pieces.
Bake in the chicken in the preheated oven for 35 minutes if you're using chicken breast or 45 minutes if using leg quarters, or until the chicken is fully cooked and the juices run clear.
Baste the chicken with the juices a couple of times during baking.