Lemon and Garlic Broiled or Grilled Chicken Breasts
Derf2440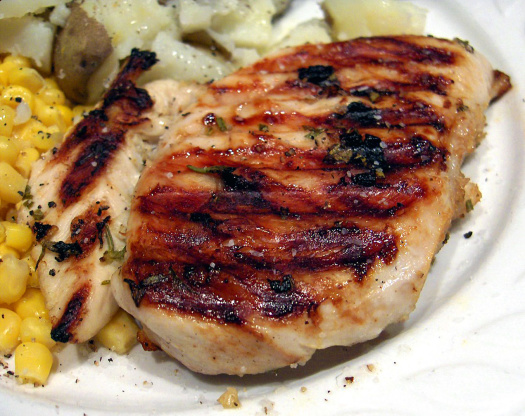 These are so delicious and very easy to prepare. I like to marinate the chicken one night and grill it the next night. It's great with grilled vegetables or a salad. This is from Nathalie Dupree (a great southern cook from Atlanta). Prep time is marinating time.

Used 6 boneless, skinless breasts which I marinated overnight and grilled. My lemons were very tart so I added one packet of Splenda and one additonal Tablespoon of EVOO for a slightly less acidic marinade. I served the chicken with Spinach Saute (Recipe #7231) Even our fussy eaters chowed down!
Place the chicken breasts skin side up in a glass dish or plastic bag.
Season with salt and pepper.
Combine the oil, lemon juice, garlic and rosemary.
Pour the juice mixture over the chicken and cover the dish with plastic wrap or seal the bag.
Marinate, refrigerated, at least 1 day and up to 2 days for best flavor.
When ready to serve, place the chicken, skin side turned to the heat, under the broiler or on the grill and cook for 15 minutes.
Turn; continue cooking until done, about 15 minutes. (The juices should run clear when chicken is pierced with a fork).