Lemon and Carrot Cake for One
loof751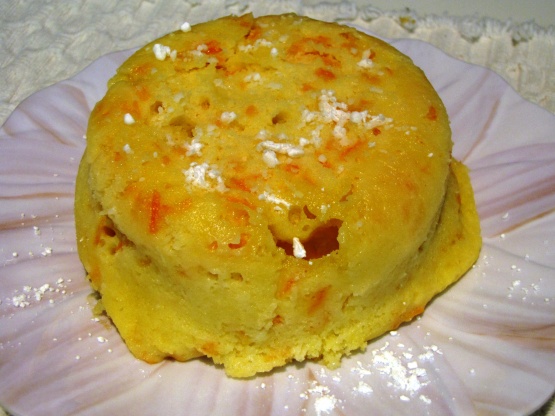 A brian turner recipe, oh how nice to have a cake for one instead of needing to make the large one and gain 3 pounds because you cant stop eating it :) This is easily done in the microwave. I haven't tried it yet but the flavors and ease are screaming at me to eat it Obviously it can be increased for more as well

This is an outstanding method in making a sweet for myself. I loved the addition of the lemon to this cake mixture...just added the zip needed. Finished in my microwave in 5 minutes perfectly. I did not have a ramekin so used a prep glass instead and it worked fine. Just in case someone else needs the conversions: 110g sugar = almost 1/2 cup; 110 g self-rise flour = almost 1 cup; 110 g butter = almost a 1/2 cup and 25 ml milk = 1.5 tbls. Thanks for sharing! I'll be making this again. So glad I tagged this in Newest Zaar Tag game.
Cream together the sugar and butter. Add the flour, eggs and milk. Mix thoroughly.
Add the grated carrot and mix to combine. Add the lemon zest and juice. Combine.
Place the batter in a large buttered ramekin. Microwave on high for five minutes.