Lemon and Basil Baked Chicken
Derf2440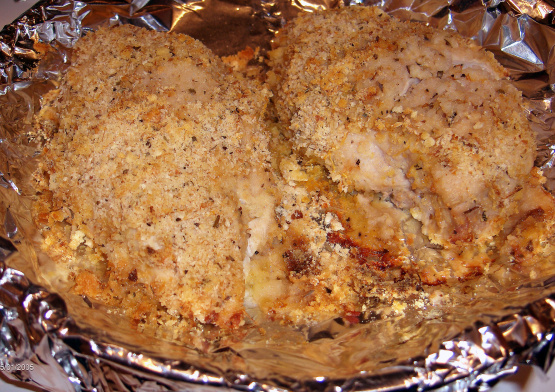 This tastes delicious and is very easy.

This was a very good dish. I used skinless, boneless chicken breasts beause that was what I had on hand. Perhaps that's what caused me to not have enough 'juice' to baste occasionally, as stated in Ev's recipe. Nevertheless, it was really tasty and my picky eater daughter loved it, that alone merits an extra star! While cooking, my house was filled with the scent of lemon, garlic and basil. Thanks for a winner Evelyn!
Preheat oven to 375 degrees F.
Line baking pan with foil.
Melt butter over low heat and add garlic; saute 1 minute.
Remove from heat and stir in mustard.
Mix breadcrumbs, lemon peel, basil (or oregano), salt and pepper on a plate.
Turn chicken in butter mixture to coat, then turn in crumbs, coating completely.
Arrange skin side up in prepared pan.
Bake until chicken is cooked through, basting occasionally with leftover butter mixture, about 45 minutes.