gailanng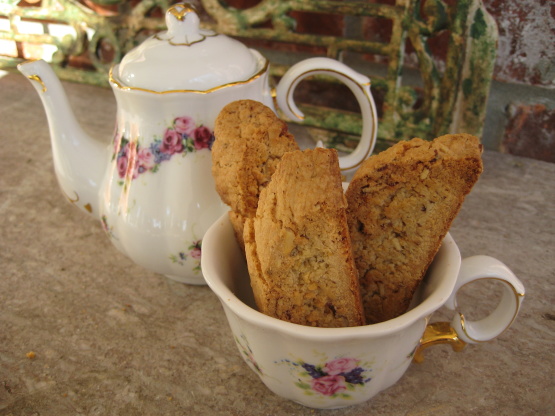 Found in the 2001 cookbook, Luscious Lemon Desserts, this recipe makes for some crunchy, flavorful cookies!

Ohhhhh my goodness, these are soooo good!!! Made exactly per the recipe, except rather than two 12 inch by 1 inch pieces I made one nice twelve by 6 by 1 inch portion to bake then cut and toast, done this way cuz I really want a nice sized biscotti with my coffee. I really loved the flavor, crispness, and texture of the biscotti, and oh my goodness my house smelled so good whilst it baked. Thank You Sydney for a wonderful recipe. Sorry no pic as my new camera was returned to me by my DGS broken and my cell phone camera just can't beat gailanng's pics. Made for Please Review My Recipe Event.
Make sure there is a rack in the middle slot of the oven. Preheat oven to 350 degrees F. Butter 1 large nonstick baking sheet & have 1 ungreased baking sheet ready.
Toast almonds on the ungreased baking sheet for 10 minutes, or until golden brown.
In a small skillet, toast the aniseed, shaking the pan, over medium heat for 3 minutes or until fragrant.
Process sugar & zest in a food processor until zest is finely ground.
In a medium bowl, whisk together the flour, coriander, baking powder & salt.
In a medium bowl with an electric mixer, beat butter & suger mixture together, beginning on low speed & increasing to medium-high, until combined well.
Add the eggs, one at a time, beating well after each addition, then reduce the speed to low & add flour mixture & aniseed, beating just until blended.
With a rubber spatula, stir in the almonds.
Halve the dough & place both portions on the buttered baking sheet.
Quickly form each piece into a 12:x1" log, & place them at least 3 inches apart on the buttered baking sheet, then smooth the 2 logs with dampened fingers.
Bake for 35 minutes, turning the baking sheet once, or until logs are golden brown & beginning to crack on top.
Let cool on the baking sheet for 10 minutes, then transfer logs to a cutting board & with a sharp knife, cut each log into 1/8-inch slices.
Arrange slices on the same baking sheet & return to the oven.
Bake for about 16 minutes, turning the cookies over halfway through the baking, until crisp & golden brown on both sides.
Let cool on a wire rack, then store in an airtight container for up to 1 month.