Annacia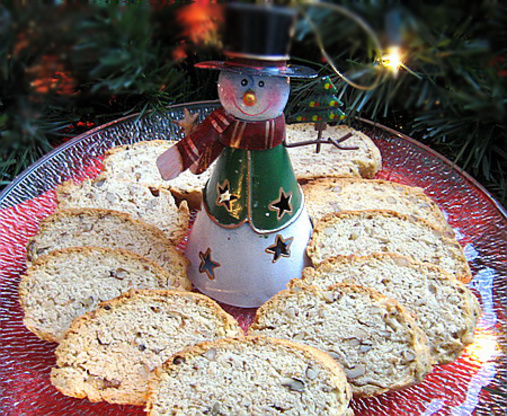 My children and I love biscotti cookies but they are so high in fat. So I was glad to find this one in the Diabetic Cooking magazine (July/Aug 2003). It has less fat and salt. Thank you MG.

This is a lovely biscotti. I used Splenda for the sugar and 1/4 cup of egg white to reduce sugar and fat as much as I could. I also added 1/2 a tsp of lemon extract and was glad I did, the mix was quite dry and I ended up adding another 2 tbsp of egg white and a tbsp of milk to get it to a workable moisture level. I sliced the bar after 10 mins and it cut very well at that point. I rebaked them standing upright for 12 mins and I'm very happy with the result. OH! I should also mention that mine were Lemon Walnut because my almonds had vanished. Thanks for this one Char!
Preheat oven to 375 degrees.
Beat margarine in bowl.
Add sugar, lemon rind, baking powder, baking soda, salt and eggs.
Beat until well blended.
Beat in flour to crumb texture.
Dough will be fairly dry.
Stir in almonds.
Kneading the dough slightly, shape into two 9-inch logs.
Flatten logs to 1 1/2-inch thick.
Place on a nonstick baking sheet and bake for 20 minutes.
Remove from oven and cool 1 hour.
Slice crosswise into 16 1/2-inch slices per roll.
Place cut side down on baking sheet and bake 8 minutes.
Flip biscotti over and bake 8 minutes more or until crisp and golden.
Cool.
Store in air-tight container for up to three days.