Leighdear's Buffalo Chicken Dip Goes Main Course (Low Carb)
jrusk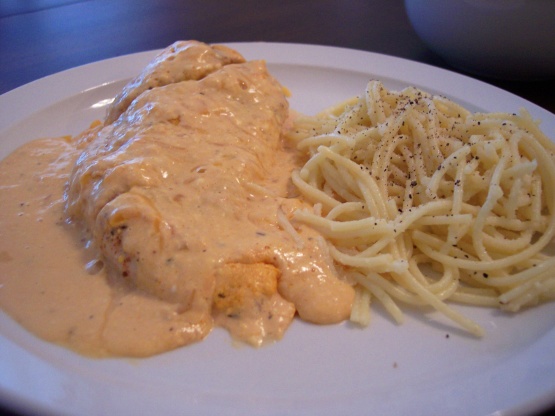 As I have stated before I mostly gather, modify and review recipes instead of designing them and this is one of those recipes. The recipe came from LeighDear at LowCarbFriends.com and is one I did not modify at all. It is a REALLY good dish that my family loves and has been getting great reviews. Thanks for the great recipe Leigh!

Awesome! I used bone in 1/2 chicken breasts.Up'ed the hot sauce, I used Texas Petes Buffalo sauce, Franks wasn't available. Cooked the breast 1/2's in the oven for 1/2 the time then poured the sauce over the breasts and cooked until done. Thanks for a keeper!
Preheat oven to 350°F.
Season chicken with salt and pepper.
Sauté in oil til browned.
Place in greased 13x9 baking dish.
Beat the cream cheese with a hand mixer until very smooth, then beat in Ranch dressing and hot sauce. (This is the only way to avoid small lumps of cream cheese). Stir in shredded cheese.
Spread over chicken in baking dish.
Bake at 350°F for approximately 20-25 minutes.