anme7039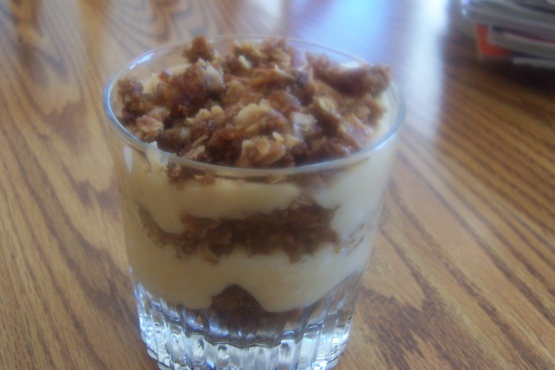 Use all the left overs from past desserts.

I have done things like this before, but instead of the cream cheese I use pudding. There was a time when I had made a chocolate pound cake and since no one in my house was eating it except me it sat for a little to long. On the 5th day I was starting to think That I'll either use it or loose it, so I made a dessert that evening that involved layers of the crumbled pound cake, mini chocolate chips, and chocolate pudding that I had lightened with cool whip. It really was good, and stopped me from having to be wasteful. Thanks for posting! :)
3

ounces cream cheese (room temp)

3

ounces Cool Whip

1

cup cake crumbs or 1 cup cookie crumbs, divided
mixed fruit (I like strawberries)
Combine cream cheese and Cool Whip (1 to 1 ratio works best).
Fold fruits into cream cheese mixture.
Crumble half of the cake or any other sort of sweet crumbs in a glass.
Layer some of the fruit mixture, the rest of the cake, then the rest of the fruit.
Enjoy!