Leftover Vegetable Casserole
karen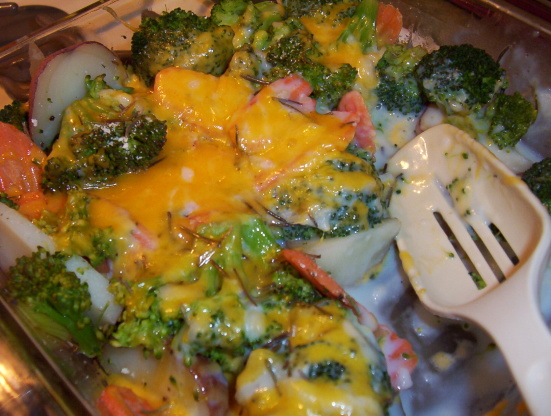 Use any vegetables you have left in your fridge that you need to use. Add meat to give more flavor.

Top Review by karen
I picked this recipe out because I had a bag of fresh broccoli about to go bad (not my favorite veggie), and needed a way to use it up quickly. I have to admit that I wasn't expecting it to be great, but I was wrong! This is a great way to use up odds & ends of veggies, but would also be worth buying them for it. I used 4 cups of brocolli, 2 slightly soft red potatoes, some carrots & green onion. I didn't see the need to add any more veggies, but I think it would be good with any combination based on what you have on hand. I used skim milk, and sprinkled the vegetables with salt, pepper and some dried rosemary before pouring the sauce over them. I think that the spices added a lot, and wouldn't recommend making it without at least some salt & pepper. I think this recipe converted me into a broccoli lover. It's going into my 10 star cookbook!
Chop and steam all vegetables.
Melt butter. Add flour and stir till smooth. Slowly add milk, keeping mixture smooth. Cook till thick.
Put vegetables in casserole dish and top with sauce and cheese.
Cook till cheese is melted.