Leftover Turkey & Stuffing Casserole
C J M.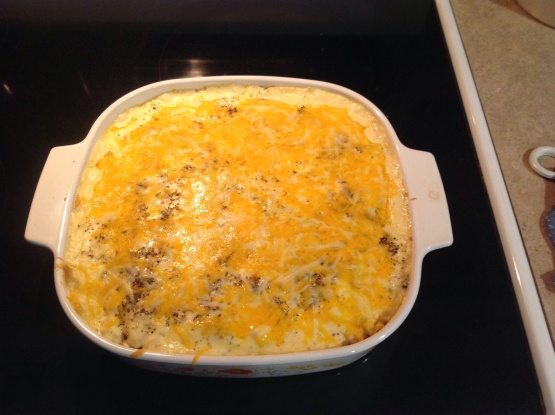 Recipe by Thea
I made this up when DD had her wisdom teeth out. She wanted a turkey dinner similar to Thanksgiving in June!! I needed to use up all the leftovers so this was it!! You can use boxed stuffing if you need to, you would need 2 6oz packages of seasoned stuffing mix. You can make this ahead very easily...just remember the cooking time will be extended

I made a few changes to the recipe which is one of the nice features of this recipe--you can be quite flexible. I had 6 cups of stuffing, used 3 cups of turkey, leftover green bean casserole instead of the frozen mixed vegetables, used the mayonnaise and sour cream instead of yogurt. I used leftover turkey gravy instead of the cream of chicken soup and cream. I layered the ingredients as per the original recipe. I did find that a 9" square pan held the ingredients quite well. There is one problem with the recipe. It doesn't tell you how long to bake the casserole or at what temperature. I tried 350 degrees for about 30 minutes. Its a great way to use up your Thanksgiving leftovers.
6 -8

cups prepared stuffing, 3/4 of it for the bottom the rest for dotting on top

2

cups cooked turkey

16

ounces frozen mixed vegetables, thawed and slightly cooked

3 -4

green onions, diced
1⁄2 cup reduced-fat mayonnaise (Hellmans is what I use)
1⁄2 cup plain low-fat yogurt

1

(10 3/4 ounce) cream of chicken soup
1⁄4 cup whipping cream or 1⁄4 cup milk

2

cups shredded cheese, divided
1⁄4 teaspoon tarragon (optional)
Spray the bottom of a 9x13 baking dish, cover the bottom of dish with stuffing.
Place turkey and mixed vegetables.
In a separate bowl, mix soup, cream, onions, yogurt and 1/2 of the cheese.
Pour over the veggie and turkey layer.
Sprinkle the rest of the cheese over the top.
Sprinkle more of the stuffing -- dotting over the top -- .