Leftover Turkey or Chicken Pasties
PetsRus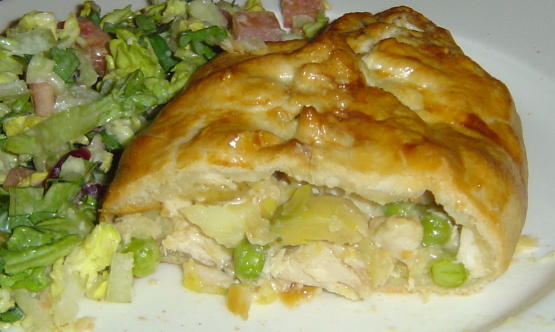 This is a very nice way to use up leftovers from a roast dinner. Use the amounts given in the recipe only as a guide. Chop and change the recipe according to the ingredients you have on hand. If you prefer shortcrust pastry then that is fine too. I often use the leftover gravy instead of the stock, I do water it down somewhat When I have less time I just cut the pastry into squares and make them as triangles.

Very good idea, these are great to have in the freezer for a quick lunch. Very easy to make as we'll, especially if you have everything left over.
198.44-226.79

g cooked turkey or 198.44 g chicken, roughly chopped

170.09-226.79

g cubed leftover roasted potatoes (or cooked0)

236.59

ml leftover prepared stuffing or 236.59 ml chopped sausage

236.59

ml leftover vegetables (chopped if needed)

118.29

ml turkey stock (maybe more) or 118.29 ml chicken stock (maybe more)

453.59

g premade puff pastry

1

egg, beaten
Preheat the oven to 400°F.
Mix together the turkey, potatoes, stuffing and vegetables, season to taste with the black pepper.
Add the stock to the mixture, it should be moist and not too wet.
Unroll the pastry and roll out further so you can cut out 4 large circles, use a side plate as a guide.
Place the circles onto a baking sheet, spoon the filling into the middle of each circle.
Brush the edges with the beaten egg, then bring them up to the middle and pinch the ends to seal.
Brush the pasties with the rest of the egg and bake in the oven for 20-25 minutes or until golden.
NOTE: Vegetables I have used so far with success are carrots, brussels sprouts, peas and cabbage. And I also added grated cheese.