Leftover Stuffing Veggi Bites
Pam-I-Am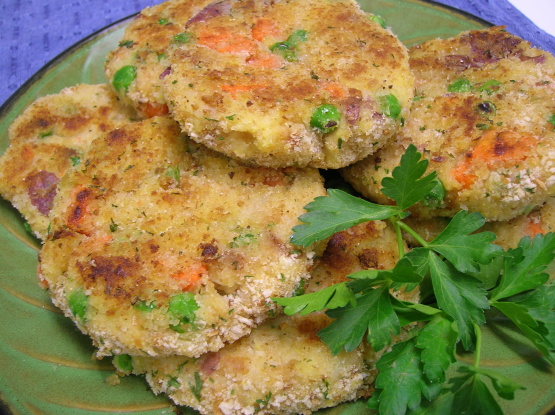 I came up with this recipe to use left over stuffing from christmas. You can substitute breadcrumbs in the place of panko if you want. If the mixture does not bind well you can add 1 egg. Salt and pepper to taste.

These were yummy! Since I didn't have leftover stuffing, I bought a box of cornbread stuffing and made that first. Then followed the directions to make the patties, using breadcrumbs...couldn't find panko. I ended up using quite a few pots and pans for this recipe and later though that several steps could have been done in the microwave (potatoes, peas, carrots) and that if I had had the stuffing as leftover, that would also be one less pot. We enjoyed the patties and all four flavors of the ingredients were balanced well. I served them with some steak last night, but think it would go best with a poultry dish.
Boil the potato until cooked. 10 minutes before they are cooked add the peas and diced carrots.
Remove the skin whilst still hot, take care since the potato is very hot.
Mash the potatoes and add the peas and carrots.
Make small bite size patties and coat with the panko or bread crumbs.
Spray a frying pan with cooking oil and fry the veggie bites until the coating is a little crispy. Serve with parmasan peppercorn dressing.