Chouny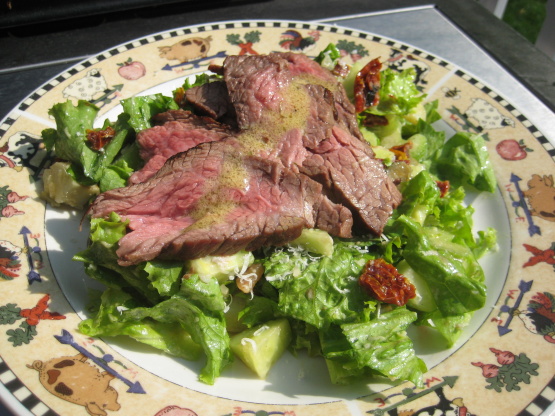 I'm a big salad eater and am always looking for new thinks to put in them. I came up this this recipe when I had leftover flank steak. The sour gerkins give it the tang that I love. It is now one of our favorite salads. Any kind of steak can be used for this recipe.
Reheat the leftover steaks in aluminium foil in oven.
Meanwhile, place all the salad ingredients in a large bowl.
In a blender or food processor, place all the ingredients for the dressing and mix well until creamy.
Pour half (or to taste) of dressing over the salad, mix well.
Arrange salad in plates and top with warmed steak.
Spoon some of the leftover dressing over the meat.
Sprinkle with freshly grated parmesan cheese.
Enjoy!