awalde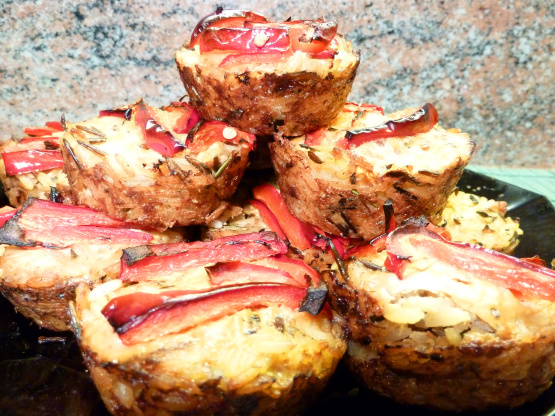 serve as appitizers, for lunches, great finger food

My friend has a recipe that is a bit similar, she calls it "Breakfast In a Cup". I couldn't find her recipe, but I recalled seeing this one, so I used it, and was happy that I did. I more than quadrupled the quantities because we had a huge breakfast retirement party for someone at work today, so I just stopped measuring, and just put it all together as Country Mouse says to do. I added diced green chilis, diced roasted peppers and pimentos, green and black sliced olives, some frozen baby corn kernals, and lots of shredded cheese and about 14 eggs. I did have to bake them at a lower temp for a longer time [350 for @35-45 minutes].This made 72 regular rice muffins and a dozen mini-muffins. I brought the 72 regular sized ones to work where they disappeared in record time [none left at the buffet table]and I froze the mini muffins to serve as appetizers for another time. Thanks Country Mouse!!!!
Have rice cooked add the ingredients you want mix altogether add s& p put into very small muffin tins, sprayed with Pam.
bake 400 for 10-15 minutes the cheese& egg will bond altogether.
let cool they are easier to get out this way.
Very good in lunches, appitizers I take them to parties.
(the rice when all mixed together should be moist but not mucky).
most of the time I do not measure just throw everything in I want adding more cheese or maybe an extra egg depending on the quantity of everything I've thrown in.
try it, you'll like it.