Leftover (Or Not) Pasta Muffins OAMC
anme7039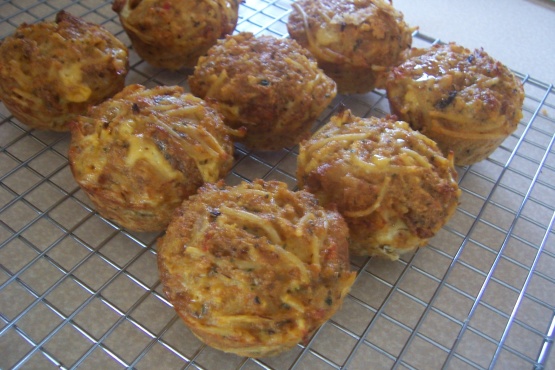 A tasty way to use up left over prepared pasta.

Very creative. Unfortunately it was not palpable for my family. Great Idea, but the taste is just too weird. Maybe it is something you have to get used to. (Like horseradish or mustard greens) I give you 5 stars for creativity, but Unfortunately we had to throw our whole batch out. (and I miss the cheese I used in these)
1064.65

ml cooked pasta, cut into about 2 inch strands (tossed in your favorite sauce)

4

eggs (or egg beaters)

118.29

ml shredded cheese

59.14

ml seasoned bread crumbs
italian seasoning (optional)
garlic powder (optional)

59.14-118.29

ml finely diced cooked meat (optional)
Grease 12 muffin tins and preheat over to 425°F.
Mix eggs cheese and optional ingredients in a large bowl, Then stir in pasta.
Scoop pasta into muffin tins and bake for about 8-10 minutes OR until set.
Let cool for a few minutes then remove from tins and enjoy or once cooled put in plastic bags and freeze. When ready to eat take out of bag and heat in microwave until heated.