Leftover Noodles Casserole
Parsley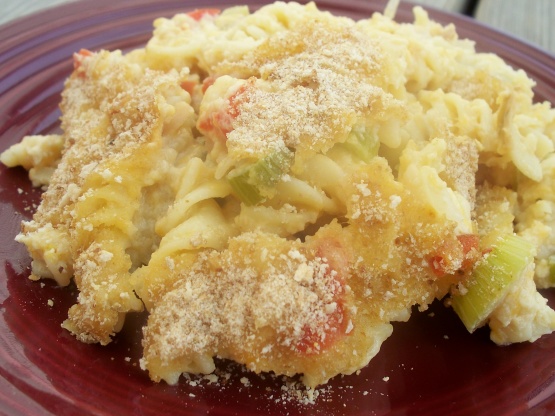 I make this when I have left-over, cooked lasagna noodles. I just slice them up and use them like any cooked pasta noodle. This is good at room temperature or as leftovers. You can use a commercially-made, dry onion soup mix or make your own, Copycat Lipton's Onion Soup Mix (that's what I use).

Leftover noodles? In my house? You have got to be kidding me! I'm lucky if I can keep enough of the drained and rinsed noodles around long enough until the sauce has been prepared. Keeping that in mind, and knowing how much the family loves noodle dishes, I just prepared the sauce first (as per the recipe) and then cooked up a batch of noodles to go with the sauce. Can I review a recipe entitled Leftover Noodles Casserole when I am not using Leftover Noodles? For argument's sake, let's pretend I can. And on to my review: I didn't really measure the vegetables, just tossed in the trinity of peppers, celery and onions. I used a strongly flavored local yellow cheese and a full cup of sour cream. I also mixed some of the shredded cheese with the breadcrumbs for an extra-crunchy topping. In our house, people fight over crunchy topping! All in all, good stuff!
3

cups noodles, cooked
1⁄2 cup green pepper, chopped
1⁄2 cup celery, chopped
1⁄2 cup onion, chopped

3

eggs, beaten

1

cup any shredded cheese
3⁄4 cup sour cream
3⁄4 cup milk
2 1⁄2 tablespoons onion soup mix (or 1/2 of an envelope)
1⁄2 teaspoon salt (if NOT using commercial onion soup)

2

tablespoons breadcrumbs, for topping (optional)
Melt ghee in saucepan.
Add the peppers, celery and onions and cook til soft. Remove from heat.
In a large bowl, combine the eggs, cheese, sour cream, milk, soup mix, salt.
Add the cooked vegetables, scraping the pan to get all the melted butter. Combine.
Add the noodles and mix well.
Pour into a greased 2-quart casserole.
Sprinkle with bread crumbs and dot with ghee if desired.
Bake 350 degrees for 40-minutes or until a test knife comes out clean.
Let cool for 20-minutes and serve.