Brenda.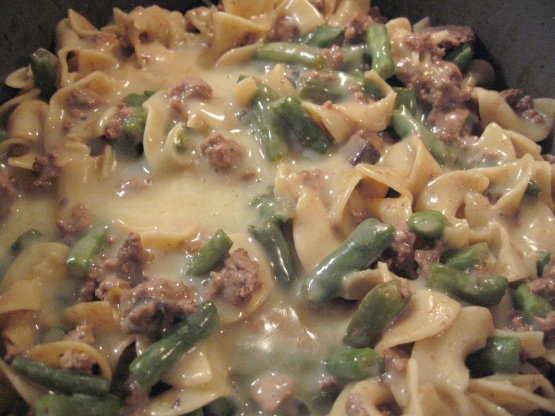 A good way to use up any leftover meat you have !

I wanted to like this recipe based on reviews. I decided to add the noodles raw. While I did add seasonings --what I found was that it was okay, but since we put the noodles in uncooked it just turned everyting very glutenis. My husband and I are taking leftovers to work tomorrow under duress to get rid of it. Next time i will make burritos or something else out of the beef! I will not make again. Sorry,
1 1⁄2 cups chicken stock

1

can condensed cream soup, any style

1

lb cooked chicken, or any leftover cooked meat,cubed

1

lb frozen mixed vegetables, thawed or 1 lb canned vegetables
1⁄2 lb egg noodles, uncooked
1⁄2 cup mozzarella cheese
Preheat oven to 350°F.
Combine all ingredients, except cheese, in a bowl.
Transfer to a buttered shallow baking dish.
Bake 40-50 minutes, stirring occasionally.
Mixture will thicken as cooked.
Remove from oven and sprinkle with mozzarella cheese.