Leftover Mashed Potato Roll Ups
anme7039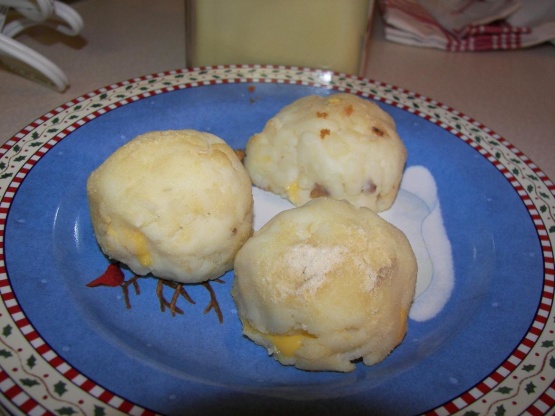 I was the master mind who created these little gems, I like this because it's a bit different from potato pancakes and you don't have to fry these and you don't have to do much to your leftover potatoes!
Let your leftover mashed potatoes cool,then roll into small balls about the size of a quarter, sprinkle the outside with seasonings of your choice.
I like to add cyenne pepper for a little kick!
Place on baking sheet sprayed with cooking oil.
Bake 325 degrees for about 25 minutes or until golden brown.
I use sides of ranch dressing or sour cream to go with them!
You can be as creative as you want- I have molded the potatoes around a small piece of cheese.
If you like it hot then use a small chunk of jalapano or habanero pepper!