Leftover Mashed Potato Meatloaf
Rita1652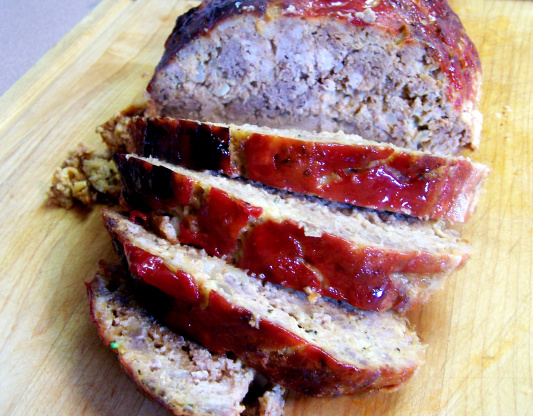 A great way to stretch the meat to serve more people, but also adds wonderful flavor and moistness to this easy recipe. Really good if you use left over roasted garlic mashed potatoes.

Who knew that leftover mashed potatoes was the secret ingredient to GREAT meatloaf? This is one of the best meatloaves I've tried - and I've tried a lot. Tender, juicy, very flavourful. Highly, highly recommended. (and it'll use up your leftover mashed potatoes! ;-)) Note: This little bit is being tacked on cause I forgot to include it in my first review. I was lazy and didn't even bother to saute the onion and garlic, just dumped them in, raw and minced, into the meat/potato mixture. Worked just fine (and no skillet to wash up).
Preheat oven to 375°F.
Place potatoes in a large bowl and set aside.
In heavy skillet over medium heat, sauté onion and garlic in olive oil until tender, about 5 minutes.
Add parsley and oregano.
Add to potatoes along with eggs, bread crumbs, 1/3 cup of the ketchup, salt and pepper and mix well until thoroughly combined.
Add ground beef and mix gently just until combined.
Place on a casserole pan, shape mixture into an 8 x 4-inch loaf.
Spread remaining 1/3 cup ketchup over top of loaf. Bake at 375°F for 70-75 minutes or until center is no longer pink and instant read thermometer reads 160°F when inserted in center of loaf. Let stand, covered, 15 minutes before slicing.