Leftover Holiday Frittata
anme7039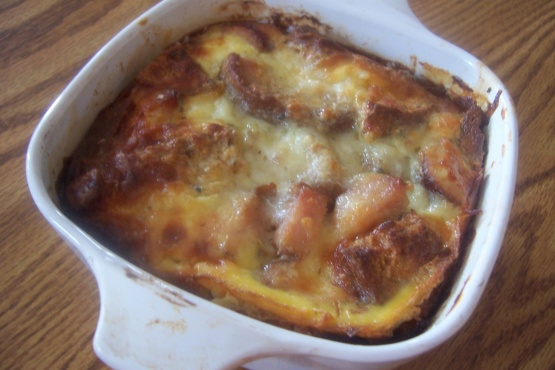 A nice dish using holiday left overs. I have made this over the stove also in the oven.

Top Review by acid.
These were really good and a great way to use up leftovers. I used ham for the meat and corn and green beans for the veggies. The stuffing I use also has sausage, mushrooms and some other stuff in it. I used an eight inch cast iron skillet to cook this. I left it on the stove top for the six minutes and then under the broiler for about 6 minutes. It was still a little jiggly in the middle when I took it out but after sitting for a couple of minutes it firmed up. very good recipe.
2

cups prepared stuffing (prepared)
1⁄2 cup cooked meat
1⁄4-1⁄2 cup cooked vegetables (chopped)
1⁄2-1 cup shredded cheese (I use leftovers from the appetizer course, and I love lots of cheese so I go for 1 cups)

7

eggs
3⁄4 cup milk

2

teaspoons italian seasoning (optional)
Preheat broiler to high and set rack 4 inches from heat source.
Coat skillet with cooking spray that can go in the oven then put the skillet on stove over medium heat.
Whisk egg, milk, and seasoning in a bowl then add the rest of the ingredients by folding inches.
Place mixture in heated skillet and cook over low for about 6 minutes until bottom seems set.
Transfer to oven and broil until egg is set and cooked, about 1-3 minutes (you really have to keep and eye on it.
Or skip the stove top work and bake in preheat 350 F oven in a casserole dish for about 35-40 minutes or until set.