Leftover Chili With Cornbread Topping
Annacia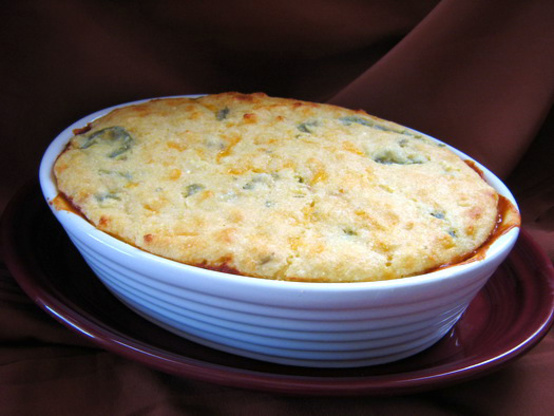 Cooking for 1 or 2 often results in some leftovers. This recipe can be made using leftover chili with beans and is wonderful for a quick meal for 2 served along with a side salad.

My mom has always made Tamale Pie - one of my favorites - which is slightly different as it has the corn mixed in with the chili-type ingredients which are made specifically for the recipe, and we use a can of chopped green chilies in the cornbread mix instead of a jalapeno. What a great, easy, new take on her recipe! I can't believe we've never thought of doing it this way! Leftover chili never gets finished around my house (just too much of it) - but now it will! Thanks for revolutionizing one of our favorites!
1 1⁄2-2 cups leftover chili, reheated
3⁄4 cup cornbread mix (Cornbread Mix)

3 -4

tablespoons milk

1

egg white
1⁄3 cup cheddar cheese, shredded
1⁄4 cup frozen corn, thawed
1⁄2 jalapeno pepper, seeded, chopped (optional)
Preheat oven to 400 degrees, spray onion soup bowls with non-stick cooking spray.
Divide the warmed chili between the 2 bowls.
Mix together the cornbread mix, milk, egg white, cheese, corn and pepper.
Pour over the warmed chili and place in the preheated oven for 15 to 18 minutes or until topping is golden brown.